A partner for Jason Plato was finally announced at the Autosports International Show this weekend. Frenchman Jean-Christophe Bouillon is no stranger to Williams having previously been the test driver for the F1 team.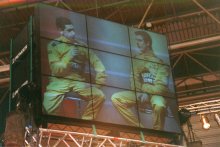 The two drivers appeared on the main stage at the show where they were interviewed by Bob Constanduros. Plato talked about the challenge of taking over the team leaders roll vacated by Alain Menu. Bouillon meanwhile was asked about the differences between Touring Cars and the Panoz he had driven in GT series last season.

Finally there was the first driver rivalry of the season as the two faced each other over two laps of the Silverstone circuit on the TOCA2 touring car racing game. For the record it should be noted that Bouillon was the victor – a taste of things to come?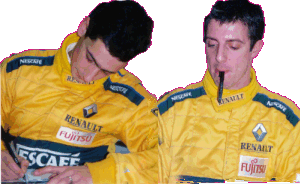 Having fulfilled their first engagement next it was straight off to the Renault stand to show off the livery of the new car, if not the new car itself, and to sign autographs. This is something that the BTCC circus is big on – meeting it's public and something Bouillon will have to quickly get used to.