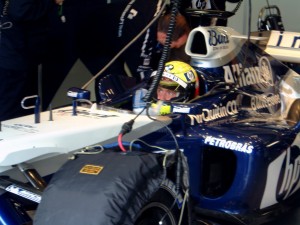 Once again Williams retained the pairing of Ralf Schumacher and Juan Pablo Montoya for a further year.
The FW26 was dubbed the walrus due to the twin tusk arrangement of the front wing, a configuration that wasn't replicated by any other team and hasn't be used since…
Williams were disqualified from the Canadian Grand Prix due to irregularities over the brake ducts, although this transpired to be due to a manufacturing problem and the team gained no performance boost.
Montoya scored his last race win for Williams at the Brazilian Grand Prix which turned out to be the last for Williams for the next eight years.
For a second year in succession Ralf Schumacher had to miss races. Following an accident at the US Grand Prix he was forced to miss the following six races. He was replaced by Marc Gené and Antônio Pizzonia.
Montoya was also disqualified from the US Grand Prix for changing car too late. His race car had failed to start on the formation lap so he jumped into the spare and started from the pit lane.
Results
Pictures