A round-up of interesting Williams related stories found on the web this week:
"It's the stick and the carrot – some drivers do need an arm round their shoulder and reassurance and to be listened to carefully and to feel they're valued within a team. I bet Red Bull wish they still had access to him." – Martin Brundle

Martin Brundle Hints At Red Bull's Alex Albon Regret Following Strong 2023
Williams now has a roster that arguably matches those of Mercedes, Red Bull, Ferrari and others in terms of potential.

How O'Sullivan FP1 run shows Williams is on right track with young drivers
"The last few races are more about holding on than anything else. But you don't want to have that mindset. You still want to be aggressive and push on. But it will be tricky." – Alex Albon

Final races about Williams "holding on" in F1 battle for P7
AlphaTauri now trails Williams by 12 points, and when Ricciardo was asked about the team's chances of catching the UK-based team, he remained hopeful but realistic. 

The frantic F1 race to avoid the wooden spoon and lose millions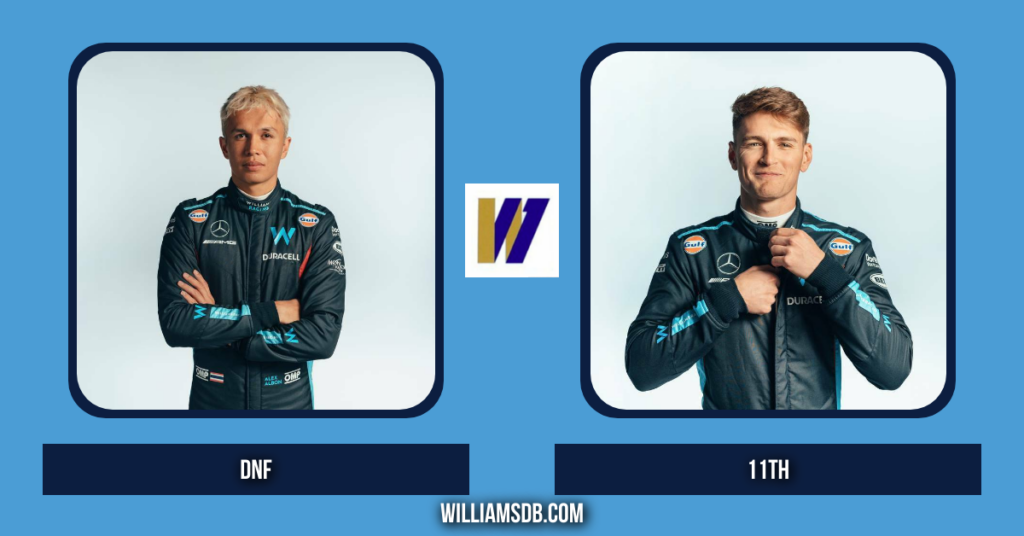 The Shameless Plug Section!
Now in its seventh year The Williams Database Winter Challenge is a bit of fun for the off-season. For 14 weeks between the 2023 and 2024 F1 seasons from 29th November 2023 – 28th February 2024 there will be one Williams related question for you to answer each week.
The person that scores the most points wins this bumper prize that includes:
A cap signed by Alex Albon and Logan Sargeant
An 800 races 1970 poster
Frank Williams biography
Jim Bamber 'The Pits'
Go here for more details and check on X, Bluesky and Mastodon.