Now in its sixth year The Williams Database Winter Challenge is a bit of fun for the off-season. For 12 weeks between the 2022 and 2023 F1 seasons from 1st December – 15th February 2023 there will be one Williams related questions for you to answer a week.
Questions will be posted on Twitter (@williamsdbf1) at midnight GMT every Wednesday – you have 24 hours to DM your answer so no need to rush. Everyone that gives the correct answer with 24 hours of positing the question will get ten points. The person with the most points at the end of the ten weeks will win. If more than one person has the same number of points at the end there will be a quick fire tie-break round.
So that means to be in with a chance you have to answer as many questions as you can over the ten weeks but you don't need to rush to answer.
What you can win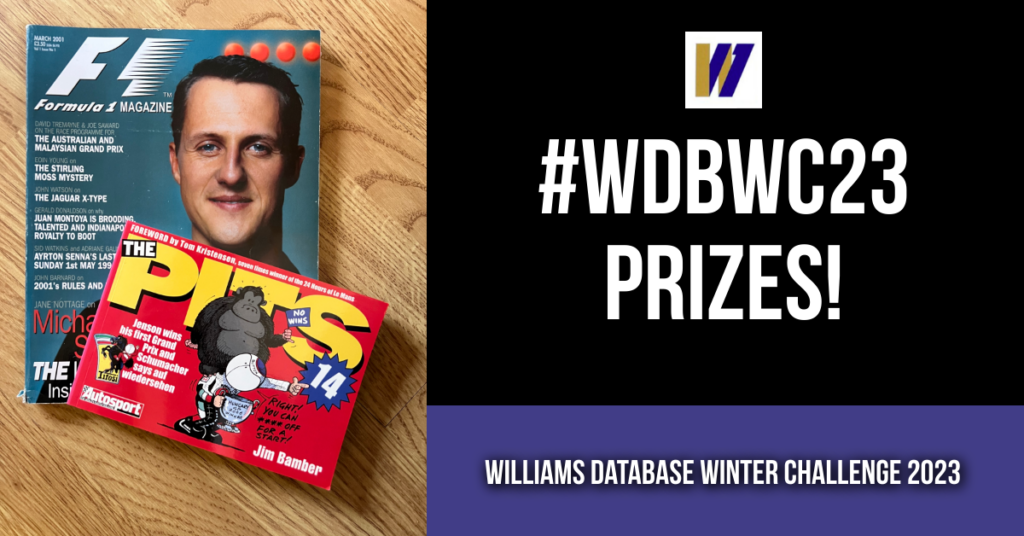 small prize package which includes a copy of Jim Bamber's The Pits Vol 14 and the #1 issue of Formula 1 Magazine from March 2001. The latter includes an interview with Williams' then technical director Sam Michael.
Current Positions
Previous Weeks Questions
Here's a reminder of the previous questions:
Week One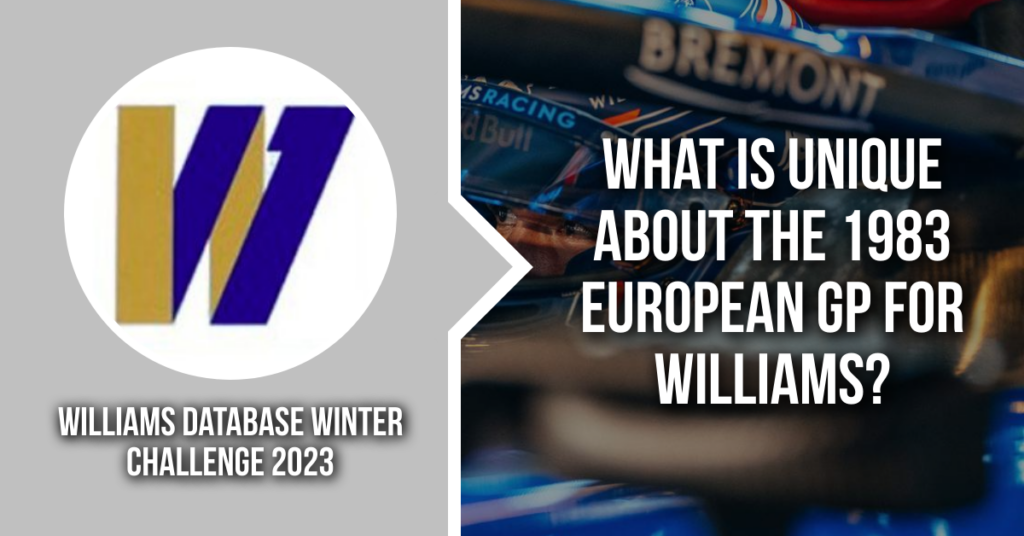 Along with Keke Rosberg and Jacques Laffite, Jonathan Palmer was entered in a 3rd Williams at the 1983 European GP. But because Laffite was a DNQ, only Rosberg and Palmer started. It was the only time in the team's history that they had 3 cars entered for a World championship GP.
Week Two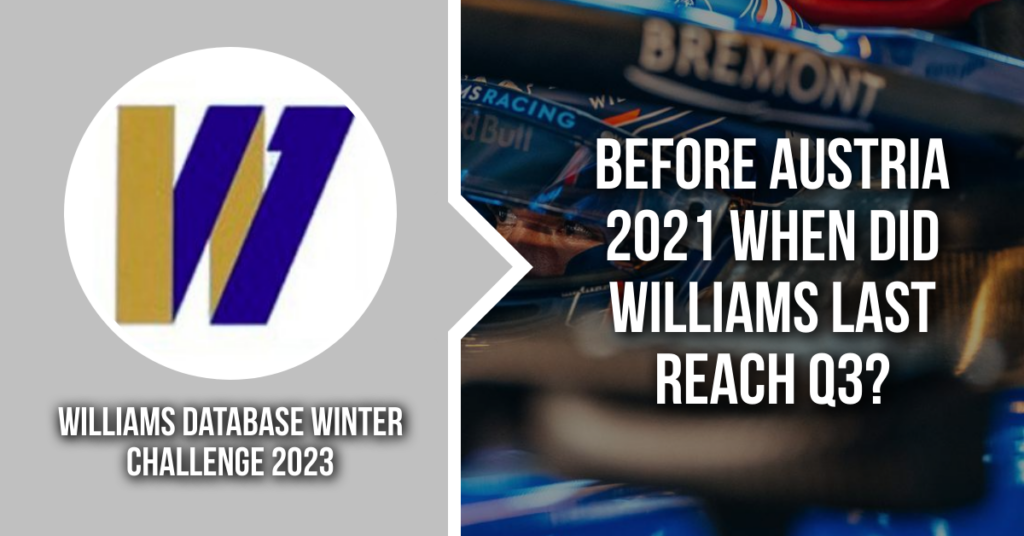 Lance Stroll in a Williams Martini Racing Mercedes FW41 at the 2018 Formula 1 Gran Premio Heineken d'Italia in Monza.
Week Three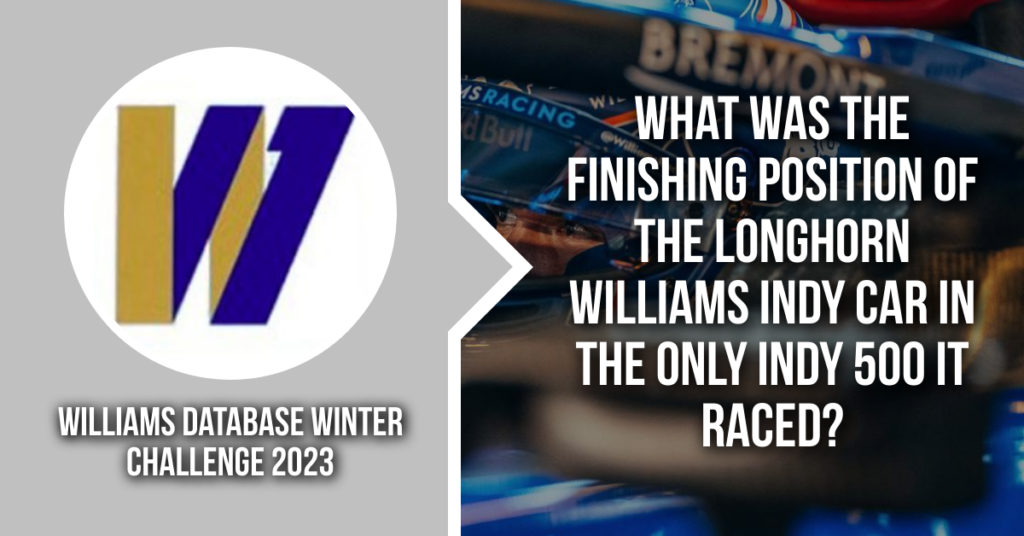 Sir Frank, as shrewd as ever, sold the plans & some parts to the FW07 which Al Unser Sr took to 17th at '81 Indy 500
Week Four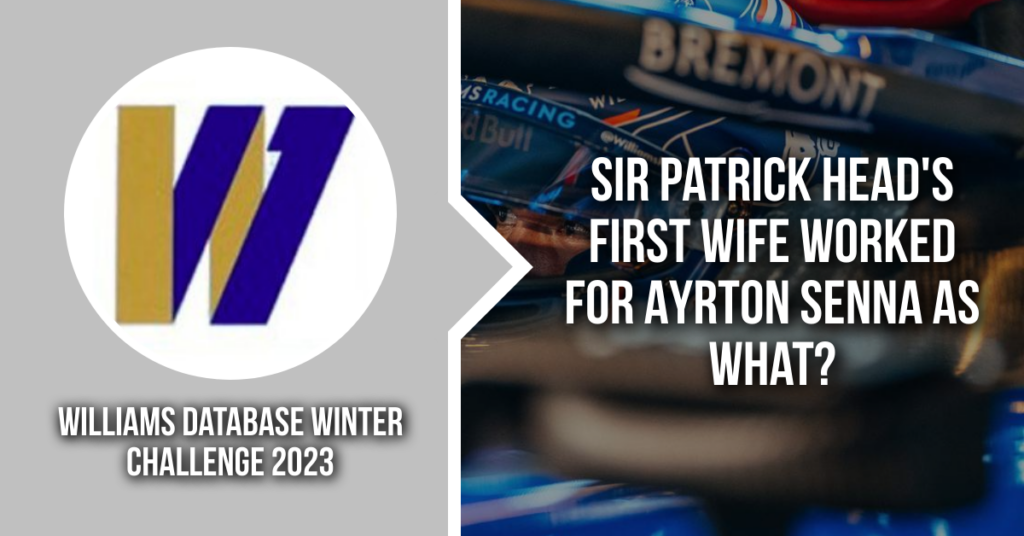 Betise Assumpcao is listed variously as his personal assistant or press officer.
Week Five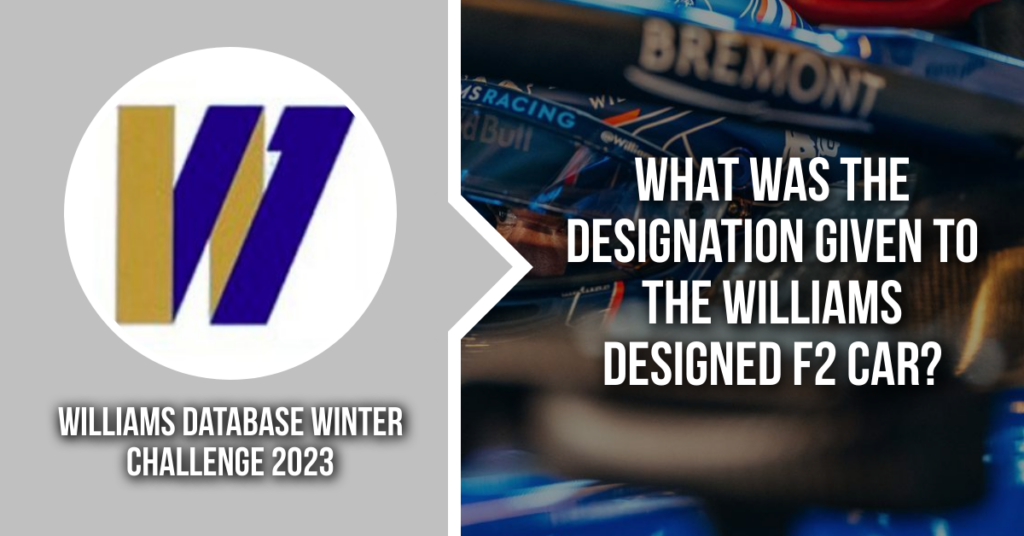 Raced in the FIA F2 Championship between 2009 and 2011 the JPH1 and JPH1B were named after Williams old boy Jonathan Palmer and Sir Patrick Head. (https://en.wikipedia.org/wiki/FIA_Formula_Two_Championship_(2009%E2%80%932012)#The_car)
Week Six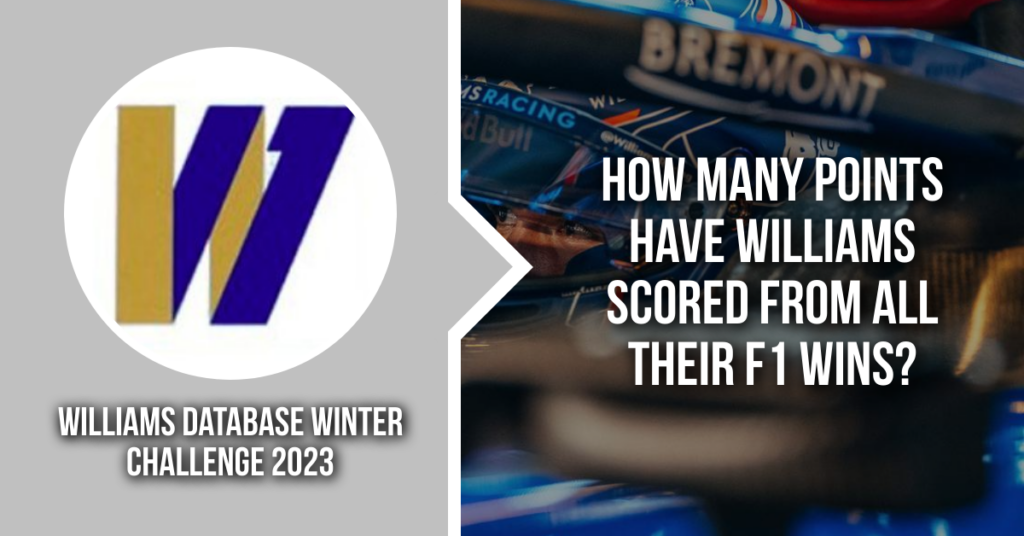 1,111 total points:

44 race wins of 9 points
69 race wins of 10 points
1 race win of 25 points

114 Total Wins.
Week Seven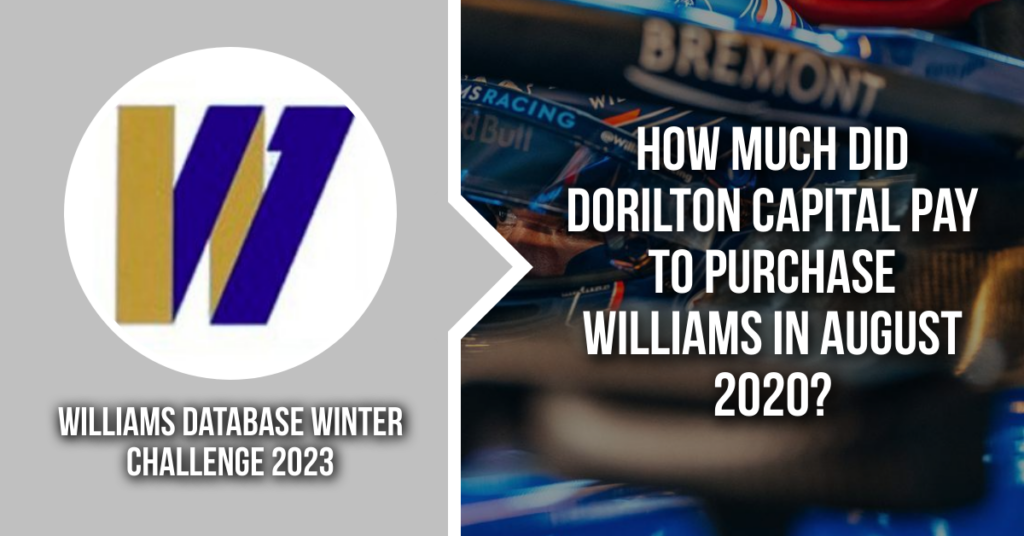 Dorilton paid €152m (£136m, $179.5m) for Williams which now seems a bit of a bargain given the recent purchase prices.
Week Eight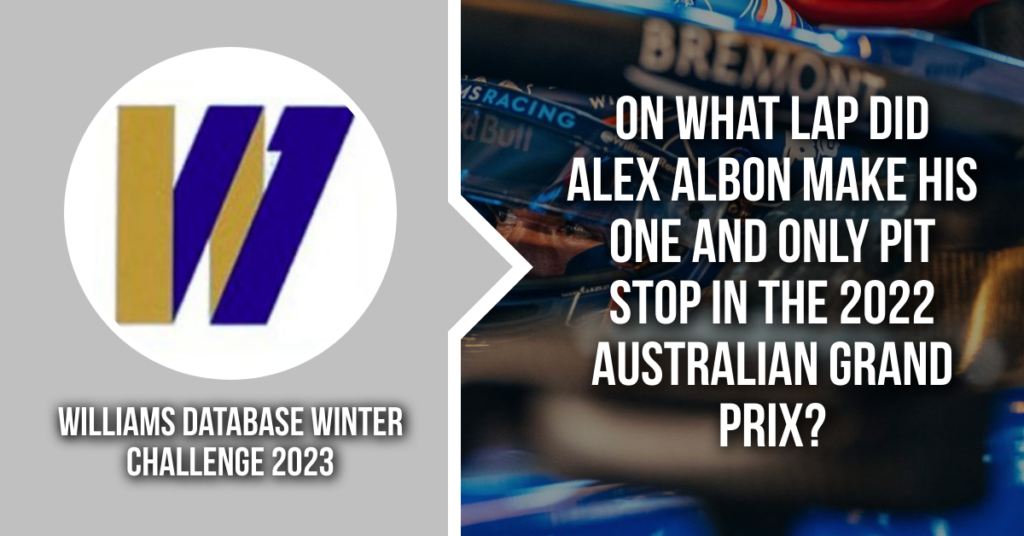 In what was an incredible race where I remember thinking "are they ever going to pit him?" and "oh no they've forgotten to pit him" to "bloody hell that's a ballsy move"! Albon eventually pitted lap 57 as you can see from the official FIA race lap chart.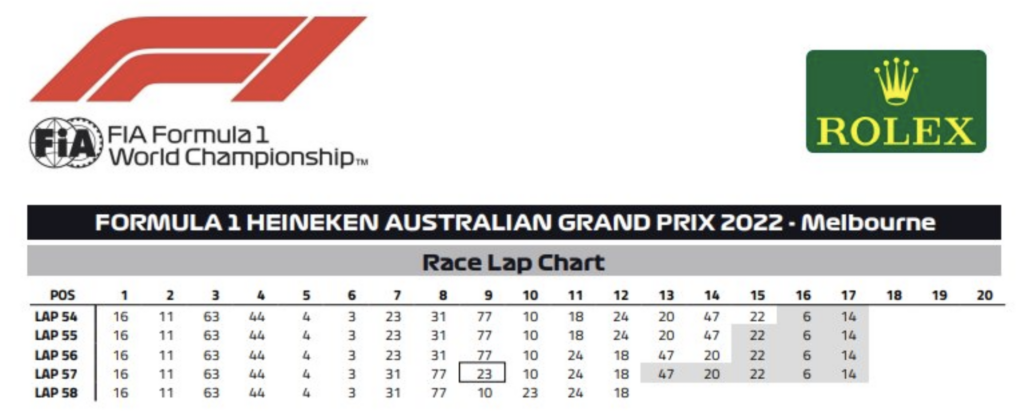 Week Nine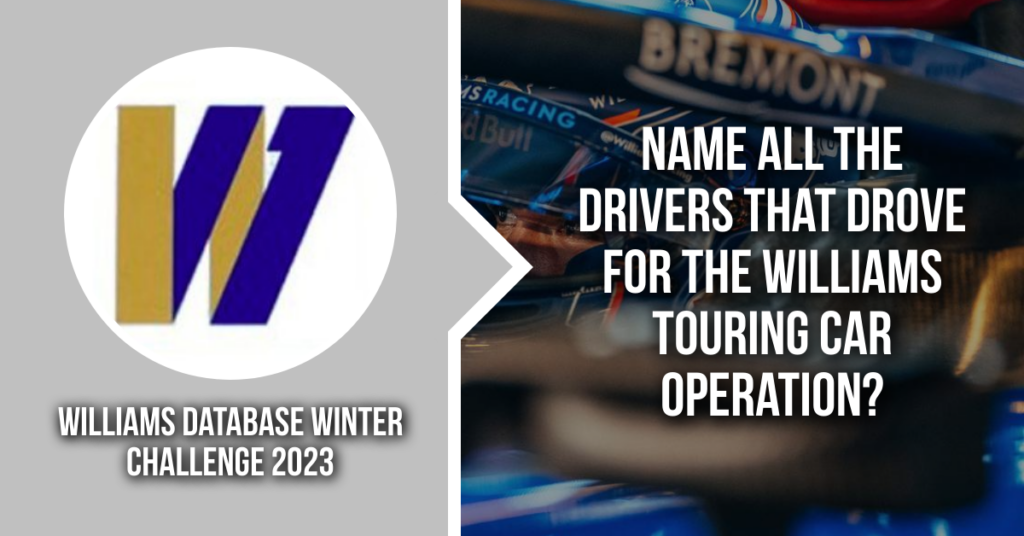 Slightly tricky one this week as people tend to forget about the sole Bathurst entry in 1997 but the full list is: Jason Plato, Jean-Christophe Boullion, Alain Menu, Will Hoy, Tommy Rustad (1998 independent winner entered in the final round at Silverstone) plus Graham Moore and Alan Jones (Bathurst 1997).
Week Ten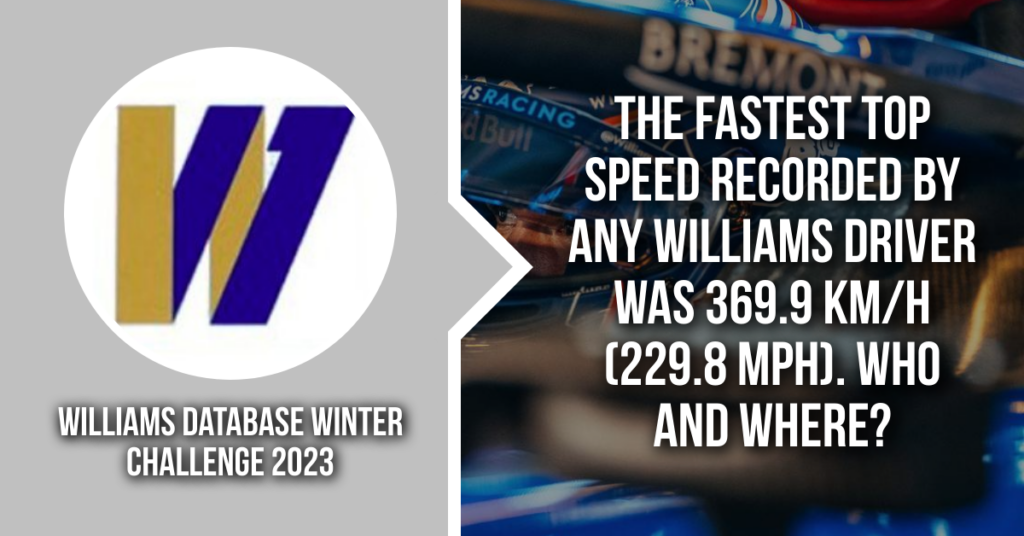 The question is slightly ambiguous in that it should have said "in a race" which makes the answer Antônio Pizzonia at the 2004 Italian Grand Prix. Bottas topped that in qualifying for 2016 GP with a top speed of 378kmh.
Here are the top ten fastest speeds set by Williams drivers in a race. As you can see they are all at Monza. In fact, the top 26 fastest speeds by Williams drivers were all recorded at Monza.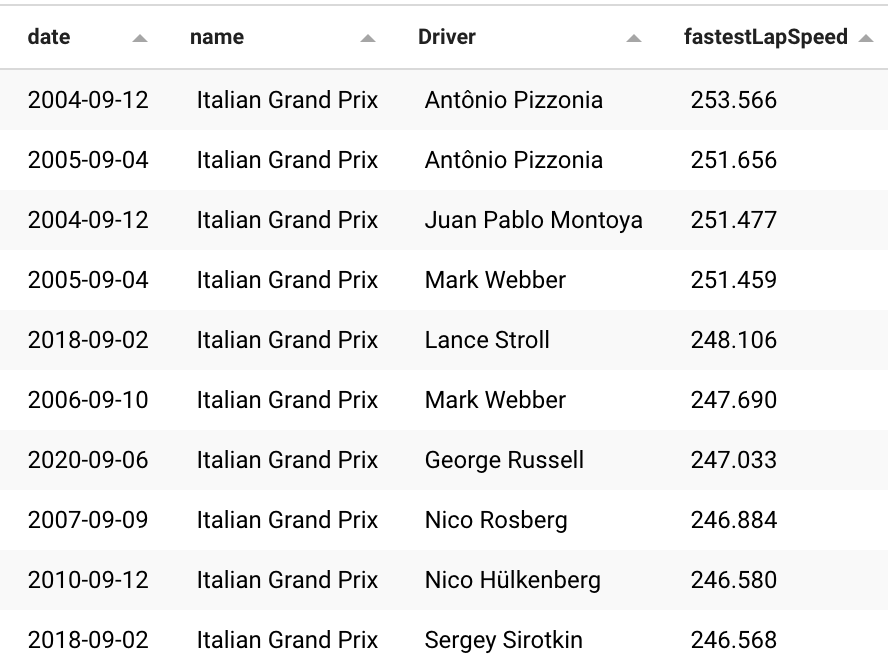 Week Eleven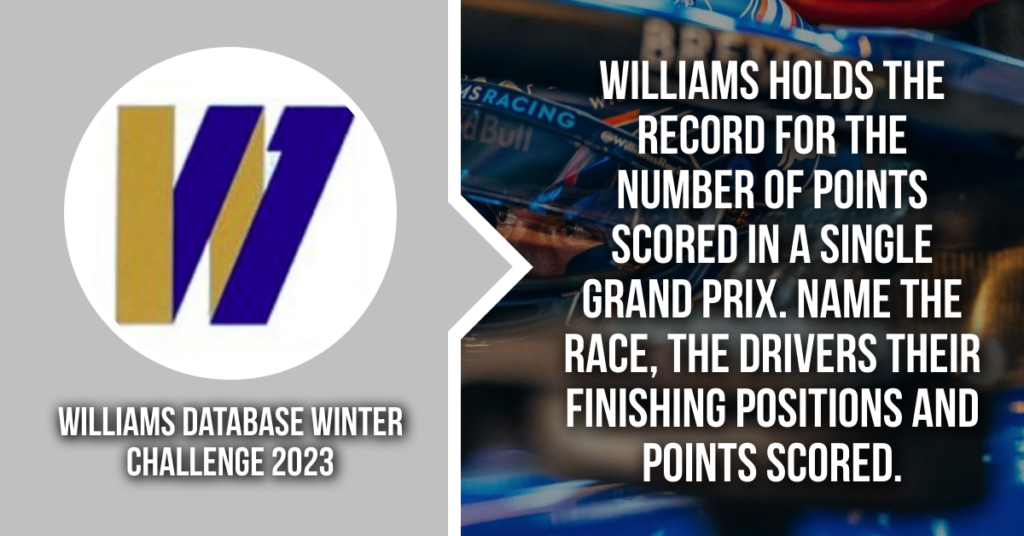 The team scored 66 points in the 2014 Abu Dhabi GP where double points were awarded. Felipe Massa finished 2nd and Valtteri Bottas finished 3rd.
Week Twelve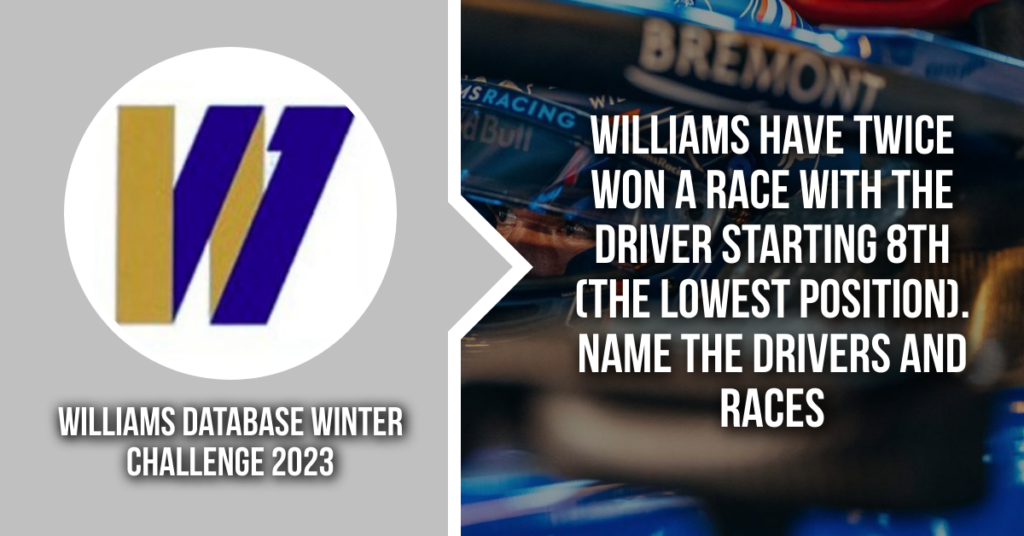 Trick question. Both were Keke Rosberg. Swiss Grand Prix at Dijon in 1982 and US Grand Prix at Dallas in 1984