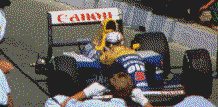 Before the start of the season Williams' Team Manager, Peter Windsor, is briefly abducted from outside the Didcot factory, beaten up and dumped at the roadside.
In the first race of the season both Ricardo Patrese and new (re-)signing Nigel Mansell fail to finish due to problems with the new semi-automatic gearbox. This was to prove to be the team's Achilles heel.
The Canadian Grand Prix in June saw the infamous Mansell waving incident. With only one lap to go Mansell was waving to the crowds in anticipation of a win when the revs dropped, Mansell went to select another gear and found neutral, the revs dropped further and the engine cut out!
It wasn't until the 7th round of the championship the Mansell finally won a race … one round after team-mate Patrese.
At Belgium Ayrton Senna lets it be known that he is less than pleased with Frank Williams for re-signing Nigel Mansell and Ricardo Patrese without telling him thus denying him a useful bargaining position with Ron Dennis.
Italy in September and Nigel Mansell announces that he is willing to commit himself to at least another three years of F1.
Disaster struck in Portugal as Mansell is disqualified. Mansell left his pit stop only to discover that he only had three wheels. A new wheel was put on but this was done in the fast lane of the pits contravening FIA regulations. Mansell was out.
The penultimate race of the season and Mansell's challenge on the championship was over when he slid into the gravel trap.
Results