1st May 1994 was a terrible day for all motorsport.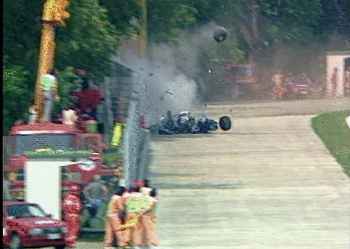 The whole weekend went badly almost from the moment the cars went out onto the track at Imola.

Saturday Roland Ratenzburger was killed trying to qualify his Simteck. That itself would have been bad enough but things got much worse – accidents on the track and in the pit lane.
And then the moment that has since been examined in minute detail, pictures beamed around the world and left not only a sport but also a nation grieving – the unthinkable – the crash that caused the death of Ayrton Senna.
The intention of this page is not to pass judgement but to bring the news and information surrounding the sad day. Details of the trial will be provided with links to other sites covering the issues.
Track Debris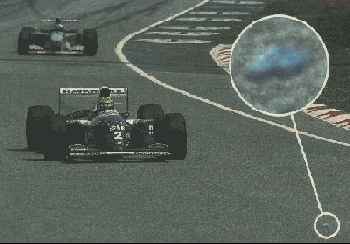 One of the theories that has been put forward as to the cause of the crash is that Senna hit some debris left on the track. The picture above allegedly shows the debris on the track immediately prior to the crash.
This picture wasn't released until a few days before the trial began and one has to question why it wasn't released in the two and a half years since the crash.
The Italian authorities have stated that the picture would be admissible in court – it will be interesting to see if it is used.
Links

Mpeg file – The Mpeg file from the Cineca site.

The S-Files – Site dedicated to the memory of Ayrton Senna. Includes several pages of information and pictures on the accident.

Witnesses Give First Evidence In Senna Trial – Details from the court for 11th March 1997.

Black Box Examined In Senna Trial – Details from the court for 2nd April 1997.

Patrick Head and Adrian Newey Attend Court – Details from the court for 15nd April 1997.

Provisional dates given for appearance of key witnesses. – Details from the court for 6th May 1997.

Hill says Senna's tyre pressure was 'low' at Imola. – Details from the court for 2nd June 1997.

Williams cleared but charges against Head and Newey stand. – Details from the court for 8th November 1997.

Final Judgement. – Details from the court for 15th June 1998.