To celebrate the start of a new millennium the village of Grove has had commissioned a monument for the village green. This depicts all the forms of transport that have been associated with the village over the years. This has included the canals, railways, a wartime airfield and now Williams Grand Prix.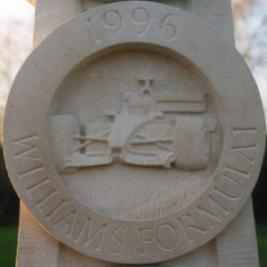 Looking like a series of Polos placed carefully on top of each other, the centre of each circle has a picture of the transport in question carved into the stone. The very last circle has a formula one car with the legend "1996 Williams Formula 1".

Click on the image above for a larger view.